Pay here via PayPal*
Select from one of the choices below. You will be redirected to PayPal.
*Includes 3% + $0.30 transaction fee
Be advised, you do not have to have a PayPal account to pay registration fees. When arriving at the PayPal landing page, look below the login space and click on the 'Pay with Debit or Credit Card' option. See the screenshot example below (not a live link).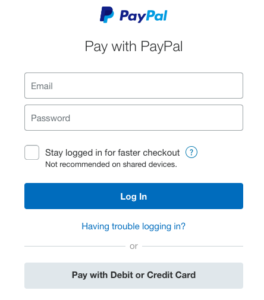 You may submit payment via check or money order to the following address:
Leah Walton, SECOLAS
c/o Department of History
UNC, Charlotte
9201 University Blvd.
Charlotte, NC 28223-0001