Be sure to check out the workshop on digital tools at 2pm in Room 3009, GEC and a round table discussion on the challenges and opportunities of global studies to Latin American studies at 3pm in Room 4003, GEC.
Many thanks to the UNC-Duke Consortium in Latin American & Caribbean Studies Outreach Program for hosting and especially to UNC Institute for the Study of the Americas for letting us use their space as a base camp.
Here is a digital copy of the official program.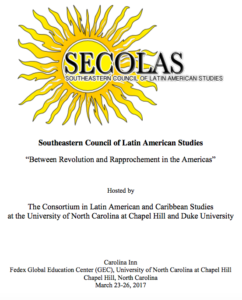 ¡Vamos!