¡Ojo! Association of Academic Programs in Latin America and the Caribbean CFP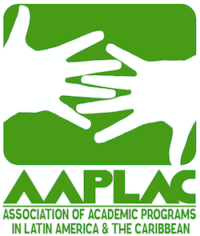 Our friends at the Association of Academic Programs in Latin America and the Caribbean have issued a CFP for their annual meeting, which will be March 8-11, 2023 in Palenque, Mexico. See below:
AAPLAC 2023 Call for Proposals
Conference Dates: March 8 – 11, 2023
Location: Palenque, Mexico
https://www.aaplac.org/aaplac-2023-call-for-proposals/
We welcome presentations from any professional engaged in fomenting educational and cultural exchange in Latin America and the Caribbean:
Faculty and professors
Study Abroad Administors
Latin America and Caribbean Non Governmental Organizations
Graduate Students
Independent Field Practitioners
Community Partners
The conference theme this year is Culture, Sustainability, and Environment in Latin America. We are especially interested in proposals that align with this theme as it relates to AAPLAC's long-standing mission of facilitating and strengthening study abroad, intercultural exchange and global learning among Latin American, Caribbean, and US institutions.
Culture, our shared patterns of behavior, interactions, and beliefs, is the framework through which we understand our relationships to our social and physical environments. Culture is fluid, yet also built over generations. The symptoms of cultures whose core guiding narratives are failing to take into account our planet's natural environment result in rising sea levels, deforestation, widespread coral bleaching, plastics suffocating the oceans, continuous loss of species, and severe weather events that are exceeding all records. In this conference, we will search for new Latin American "cultural guideposts" and effective region-specific methods of action to confront today's greatest environmental and cultural challenges. We seek papers on cultural and ecological sustainability and knowledge-keepers, song bearers, and storytellers with perspectives for facing and confronting the existential threats that Latin America and global ecosystems face today.