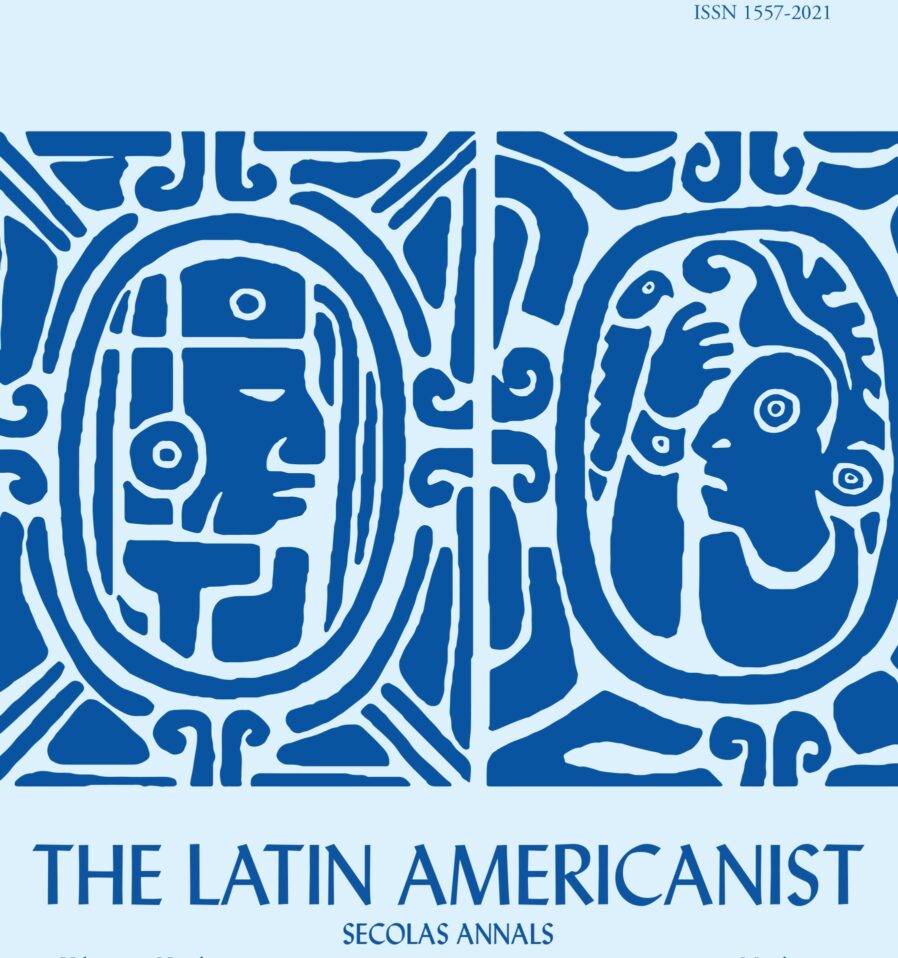 Volume 67, Issue 3 (September 2023)
John R. Bawden, The Enduring Significance of the 1930s for Chile's Long Cold War
Steven Bunker, A Mythic France for Export: Auguste Genin, Cultural Brokers, and the Third Republic's Mission Civilisatrice in Porfirian Mexico
Elizabeth Schwall, Dancing Collaboration: Lorna Burdsall and Elfriede Mahler in Revolutionary Cuba
Submit an article!
Find us on Project Muse
The Latin Americanist (TLA) is a peer-reviewed, multi-disciplinary journal, publishing original articles, review essays, book reviews, and news of SECOLAS and its members. The Latin Americanist is supported by the University of North Carolina at Charlotte and Winthrop University. TLA is published for SECOLAS by the University of North Carolina Press.
Editor-in-Chief: Jürgen Buchenau, UNC Charlotte
Editor of Annals Issue: Gregory Crider, Winthrop University
More information on the journal:
https://www.uncpress.org/journals/the-latin-americanist/
Find us on Project Muse:
https://muse.jhu.edu/journal/737
Editorial Board
Federico Batista, UNC Charlotte
David Dalton, UNC Charlotte
Erika Edwards, University of Texas at El Paso
Eric Hoenes, UNC Charlotte
Carmen Soliz, UNC Charlotte
Aims and Scope
As the oldest continuously published Latin American Studies journal, The Latin Americanist is dedicated to comprehensive, multidisciplinary, and trilingual coverage of the field—including Latin American history, literature, political science, and anthropology.
The Latin Americanist publishes high-quality, peer-reviewed original articles, review essays, and book reviews, as well as news of SECOLAS and its members. Published quarterly with articles in three languages (English, Spanish, and Portuguese), TLA serves as an important international resource for all individuals concerned with Latin American Studies.
Manuscripts may be submitted online at: https://latinamericanist.submittable.com/submit
Readership
The audience is academic, multidisciplinary, and international. It encompasses anyone interested in any facet of Latin America, U.S. policy, and Latinos.
Keywords
The Latin Americanist, Latin America, Latin Americanist, Latin American Studies, Latin American history, Latin American literature, Latin American political science, Latin American anthropology, South America, Central America, Hispanic, Latino, SECOLAS, research
Abstracting and Indexing Information
Academic Search (EBSCO Publishing)
Academic Search Alumni Edition (EBSCO Publishing)
MLA International Bibliography (MLA)
Author Guidelines
Edited By: Jürgen Buchenau (Editor) and Gregory Crider (Editor of Annals Issue)
Because The Latin Americanist is a multi-disciplinary journal, we accept the style and formatting each author uses in their own discipline. Manuscripts can be in English, Spanish, or Portuguese, and should not exceed 10,000 words. They should be double-spaced. Because TLA uses a double-blind review process, all self-identifiers (including name and acknowledgments) should be removed from the manuscripts, and can be inserted later if it is accepted for publication. The manuscript should be original and not submitted elsewhere.
To submit an article click here: https://latinamericanist.submittable.com/submit
More information on the journal:
https://www.uncpress.org/journals/the-latin-americanist/