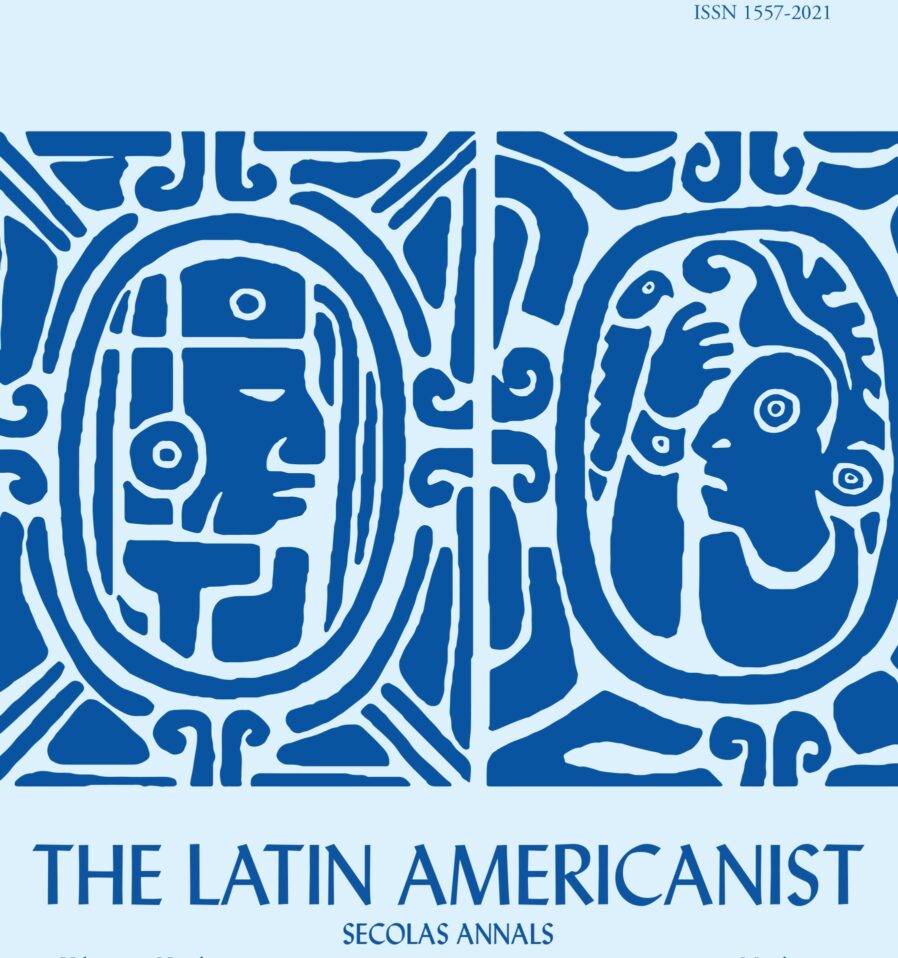 Volume 65, Issue 3 (September 2021)
Jürgen Buchenau, Note from the Editor-in-Chief
Ignacio Carvajal Regidor, Writing Ajawarem: Establishing Authority over People and Territory in Three Sixteenth-Century Texts in the Highlands of Guatemala
William T. Fischer, Shamanism as a Strategy of Domination: BrujerÍa in the Ecuadorian Amazon in the Middle of the Twentieth Century
Irina Popescu, Memorialization and Escraches: Ni una Menos and the documentation of Feminicidio in Argentina
Ricardo Pelegrin Taboada, The Emergence of the Chaple Family as Liberal Elites: Lawyers and Social Mobility in Mid-Nineteenth Century Cuba
Submit an article!
Find us on Project Muse
The Latin Americanist (TLA) is a peer-reviewed, multi-disciplinary journal, publishing original articles, review essays, book reviews, and news of SECOLAS and its members. The Latin Americanist is supported by the University of North Carolina at Charlotte and Winthrop University. TLA is published for SECOLAS by the University of North Carolina Press.
Edited by: Gregory Weeks; Jurgen Buchenau and Gregory Crider (Co-Editors, SECOLAS Annals)
More information on the journal:
https://www.uncpress.org/journals/the-latin-americanist/
Find us on Project Muse:
https://muse.jhu.edu/journal/737
Editorial Board
Anabel Aliaga-Buchenau, UNC Charlotte
Stephen Morris, UNAM
James Wood, North Carolina A&T
Monica Rankin, University of Texas at Dallas
Lou Pérez, UNC Chapel Hill
Devyn Spence Benson, Davidson College
Renee Scherlen, Appalachian State University
Miriam Jorge, University of Missouri-St. Louis
Mark Setzler, High Point University
Paul Worley, Western Carolina University
Carlos Coria-Sánchez, UNC Charlotte
Aims and Scope
As the oldest continuously published Latin American Studies journal, The Latin Americanist is dedicated to comprehensive, multidisciplinary, and trilingual coverage of the field—including Latin American history, literature, political science, and anthropology.
The Latin Americanist publishes high-quality, peer-reviewed original articles, review essays, and book reviews, as well as news of SECOLAS and its members. Published quarterly with articles in three languages (English, Spanish, and Portuguese), TLA serves as an important international resource for all individuals concerned with Latin American Studies.
Manuscripts may be submitted online at: https://latinamericanist.submittable.com/submit
Readership
The audience is academic, multidisciplinary, and international. It encompasses anyone interested in any facet of Latin America, U.S. policy, and Latinos.
Keywords
The Latin Americanist, Latin America, Latin Americanist, Latin American Studies, Latin American history, Latin American literature, Latin American political science, Latin American anthropology, South America, Central America, Hispanic, Latino, SECOLAS, research
Abstracting and Indexing Information
Academic Search (EBSCO Publishing)
Academic Search Alumni Edition (EBSCO Publishing)
MLA International Bibliography (MLA)
Author Guidelines
Edited By: Gregory Weeks (Editor); Jurgen Buchenau and Gregory Crider (Co-Editors, SECOLAS Annals)
Because The Latin Americanist is a multi-disciplinary journal, we accept the style and formatting each author uses in their own discipline. Manuscripts can be in English, Spanish, or Portuguese, and should not exceed 10,000 words. They should be double-spaced. Because TLA uses a double-blind review process, all self-identifiers (including name and acknowledgments) should be removed from the manuscripts, and can be inserted later if it is accepted for publication. The manuscript should be original and not submitted elsewhere.
To submit an article click here: https://latinamericanist.submittable.com/submit
More information on the journal:
https://www.uncpress.org/journals/the-latin-americanist/