Ramos receives Thomas Award honorable mention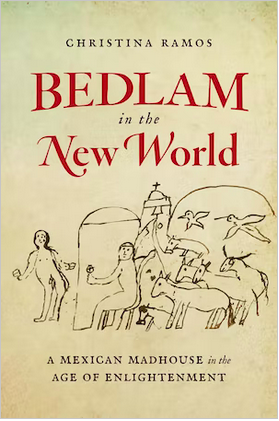 Dr. Christina Ramos of Washington University received honorable mention in the Alfred B. Thomas Book Award competition for her book entitled Bedlam in the New World: A Mexican Madhouse in the Age of Enlightenment.
The committee wrote,
In Bedlam in the New World, Christina Ramos traces how enlightenment thought played out in the realm of mental health in New Spain from 1567 through the 1700s. Her innovative approach focuses on the patients at the San Hipólito mental hospital. However, because documents from the institution itself are few and far between, she draws primarily on legal documents that mention the hospital. In so doing, she is able to show how thinkers in the New World upheld and, at times, even challenged rationalist understandings about mental health from the time period. In the end, Bedlam in the New World's fantastic methodology and innovative use of sources sheds greater light not only on colonial Mexican history, but on the history of science more generally. In recognition of its significant contributions to the field, the committee has opted to award it with honorable mention.
The Alfred B. Thomas Award is awarded annually for the best book on a Latin American subject published by a SECOLAS member in the previous year. Books may be in any language.
This year's committee included Dr. David Dalton (University of North Carolina, Charlotte, Chair), Dr. Leigh Ann Wilson (University of Massachusetts – Global), and Dr. Martin Nesvig (University of Miami).