Valerio's Sovereign Joy wins the Thomas Award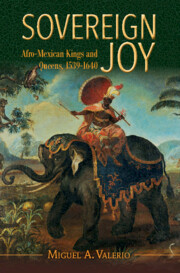 Dr. Miguel Valerio's book Sovereign Joy: Afro-Mexican Kings and Queens, 1539–1640 has won the 2023 Alfred B. Thomas Book Award. Dr. Valerio is an assistant professor in the Department of Romance Languages and Literatures at Washington University in St. Louis.
The committee wrote,
"In Sovereign Joy, Miguel Valerio produces a fascinating, interdisciplinary study that takes us on a journey through the festive performances of Black kings and queens in colonial Mexico. He uses literary and visual culture, as well as a deep understanding of these performances across the Black Atlantic, to tease out a study that explains how Black people in New Spain used festivals to negotiate identity and subjectivity. Truly an interdisciplinary work, this study shows how we can approach otherwise unanswerable questions when we pull from an array of disciplines. While there is very little archival data on this cultural phenomenon, for example, there are Pan-African theories and histories that can facilitate new readings of existing visual and print culture. In the end, Valerio reminds us of the value of truly interdisciplinary scholarship, especially when dealing with subaltern populations whose histories have been systematically excluded from the archive. It is for this reason that the committee opted to grant this book the Alfred B. Thomas Book Award."
The Alfred B. Thomas Award is awarded annually for the best book on a Latin American subject published by a SECOLAS member in the previous year. Books may be in any language.
This year's committee included Dr. David Dalton (University of North Carolina, Charlotte, Chair), Dr. Leigh Ann Wilson (University of Massachusetts – Global), and Dr. Martin Nesvig (University of Miami).